http://manaonline.tripod.com/apoen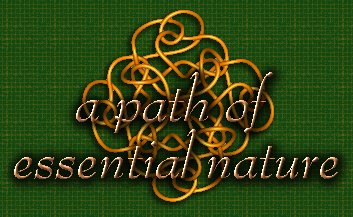 First, a moment to explain the title as well, for it ended up being a pun more than anything. The term "essential nature" can substitute for "psyche", mentality, point of view. "Essential" can mean "needed", "necessary"and "important". The term "nature" can also be defined as "a way of being" or "defining origin", or as the plants and animals of the world around you. I find that I am indeed following "a path of essential nature", in all aspects of the expression.
Welcome to these pages I've created to devote to my beliefs, I'm Mana, a solitary pagan studying her own path which centers around Celtic Druidism. They say that journaling is an excellent way to help you progress on your journey... In that case, I think that creating a page like this is all the better because you can share it with whomever comes across it.





Coming Soon!
The Definition of Paganism
The Hypocritical How-To for Druidism
The No. 3

Divination
Smith, Jennifer. Raido: A Runic Journey.
Written by the Founder of Tara Hill Designs, a Canadian, and the fact that it only cost $10.00 were part of the temptation to buy this book. I found it very satisfying and would recommend it to anyone beginning runecasting (like myself at the time of writing this review.) Smith develops each rune carefully with tales of Mythology to relate as well as interpretations for the physical, mental and spiritual aspects of the reading.
History
Piggot, Stuart. The Druids.
I found it expensive but this book has become my most referred to resource. It's written "scholarly", as someone once put it for me. In otherwords, very textbookish and it may seem long winded at times. Keep going. I've read through it many times, underlining passages that I at the time knew I'd need to refer to in the future- which I did and still do years later.

I've heard some say they don't prefer this book because the author sounds too "anti-Druid" in his writing. I didn't feel this way at all. Piggot, who was an archaeologist, does not seem to have been a pagan which therefore makes me feel much more comfortable and believeing of the content. I found it to be well reserached and objective.

Admittedly, there is a third section regarding the "Romantic Druid" of the late 1500s and it was his tone here that may have offended some people, but probably not most. I mean, come on, they wore fake white beards...
Mythology
Squire, Charles. Celtic Myth and Legend.
An excellent collection, in my opinion. I also find it very helpful to keep a reference on hand too, as it's easy to lose track of names and places. I have James Mackillop's Oxford Dictionary of Celtic Mythology, others recommend Miranda Green's Dictionary of Celtic Myth and Legend. Mackillop's was slightly cheaper and seemed to have more definitions, but Green's is illustrated.


General
Brendan "Cathbad" Meyers' personal research pages are, in my opinion, an excellent resource for anyone curious about Druidism. His Guide to Contemporary Druidism is well known and popular among many. I consider it to be well researched and recommend it to all beginners as a starting point.

Celtic Me is another useful site created by webmaster Ric Knight: Festivals, Druidism, a recommended reading list that I myself refer to, language resources and more. Definitely worth your visit.

Mythology
Ty Feirdd The Hall of Bards simply excited me the moment it was referred to me by Leila. It's a huge archive filled with texts of Celtic lore- Welch, Irish, Cornish, French, Breton and German. All are in English, some sections also offer the text in it's original language. I simply cannot wait to find the time to work my way through this.
The Ulster Cycle is a favourite of mine too - not as complete as the above site, but very well written, easy and entertaining to read. I highly recommend it.
Divination
Runes, Alphabet of Mystery is the best runes site I have ever come across- inspiring and very informative. A must-see.
With Learning the Tarot, you needn't a reference book! Lessons, tabular refererences, image examples, zipped files for you to download onto your computer. A gem of a site!
Herb and Nature Lore
Sacred Woods and the Lore of Trees has short but concise. A good enough reference site for me, so far, unless someone can please refer me to something better?
The Herbal Encyclopedia, despite it's less then professional layout, is a grand archive of herbs, listing their medicinal and religious properties, as well as growing conditions. Also a number of very interesting informative articles.
Ethics
Myriad of Enchantments, pathwise, focuses more on Witchcraft and Wicca, but coveres a lot of general magical ground. Melissa, the webmistress, covers a lot of moral issues too and I find her opinions to be very wise ones.





Groups
The Dawson Pagan Association is a newly founded (March 2004) club at Dawson College, aiming to provide an environnment for the practice, learning and sharing of Pagan knowledge.

-M
In my own experience I have never personally met anyone studying nor practising Druidism. I am thankful for the Canadian Druid Fellowship, uniting Druids, most of which who are solitary like myself, across the country. CDF is a constant help to me as I continue down my path. It is NOT a "How-To" list at all- the conversations are insightful yet still fun and casual. Leila, the list owner, as well as the members regularly bring in articles focusing on Pagan and Celtic spirituality.

Stores, Suppliers
Le Mélange Magique as it's known here, or The Magical Blend if you prefer, must be the largest resource for Pagans in Montreal. It's located smack downtown for everyone's convenience and the products offered there range from A-Z: books, herbs, incense, cards, services, etc.

-M



Of Interest
I honestly never thought I'd ever find a site about Why Wiccans Suck, but having gone through it a bit, it's interesting. Go by, and try not to be offended- some of it does make sense...
Pagan Lightbulb Jokes - oddly funny.
Droop The Druid's Guide on How to Be a Druid is hilarious! I love it- especially the carring hazelnuts in your pocket one. I actually want to start doing that. There,s a lot more Droop in the articles (although I don't like them as much) at Inis Glas Thoir.