---
October 31st, 2004:
Unfortunately, it is the last day of October, and finally Halloween.
Well Halloween has come and I must go... All Boo Buddys disappear after 12 on Halloween..
But I want you to know I enjoyed be a Boo Buddy to you.. Thanks for playing along...
I am attaching a good bye gift for you.. Enjoy it... Happy Halloween!!!
I tried to e-mail back, but alas, the mail bounced. The addy doesn't work anymore.
Perhaps I can find a way to bribe the ADT staff into telling me who it was?
(For all I know, it was one of them! :o)

---
October 30th, 2004:
Another e-card!
And more gifties from DRealm:

---
October 29th, 2004:
(Note to self. Never every trust Outlook Express. You end up losinmg out on lovely gifties like this.)

---
October 27th, 2004:
First I recieved an e-card.
The this:
Here I am again, I made you a wee gifty... Oh and have you been doing your pages?? I looked at them and you have a nice site.. Grinz, I remember your first site also.. Hmmm, well off I go to see what I can do now... I hope you are having fun with this... I know I am..
Argh! All the guessing is driving me crayzee!!!!

---
October 26th, 2004:
Tee hee - these are gifts from DRealm!

---
October 23rd, 2004:

Look - it's my Boo Buddy in her costume!

---
October 22nd, 2004:

Blast! Another .zip batch of lost graphics, but Ghostie did send me the URL- and wow! It's a

Send a Spirit Flower!

treasure trove!

---
October 20th, 2004:

My Boo-Buddy is right - it is too pretty to be scary...
---
October 18th, 2004:
---
October 13th & 15th, 2004:
(Did you know that Outlook disables all attatched .zip files after they've been in your inbox for a while?
Suddenly I go back to check on the great gifties I'd recieved - a killer frog and some adopted bats,
and I can't get them! Too bad... :( That frog was mighty scary.)

---
October 12th, 2004:

Send a Fantasy Fights Jack-O-Lantern!
And would you believe it - I got a clue!
Hints??? Hmmm???? Hints huh?? What do I do in TSF's... Well ok, I will try..
I do graphics, update pages, make new ideas appear on pages, join in all the games I can,
I am old, tired and I WORK MY DANG BUTT OFF... but I have a lot of fun and make a lot of friends,
I am an old timer here.. I cant remember when I wasnt in TSF's... Well, maybe I can.. oh I know, I am cute!!!!!
ROFL.. Does this help???
Off to play some more....
DBOOing Buddy
---
October 11th, 2004: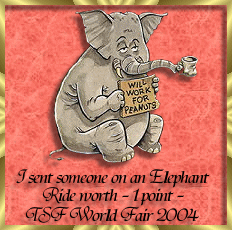 Of course, all the gifties from my Ghostie Pal inspired me to send a few myself!
I sent one of our new fighters, Jeff, for a ride!

YAY!! SPARKLY PUMPKIN! (Wonder what'll it be like to smash 'em?
Don't worry, Ghostie! I won't ruin your work - I love it too much.)
An E-Card that gave me a good giggle.

---
October 9th, 2004: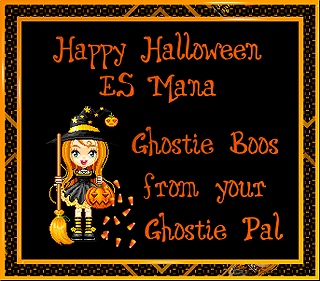 ---
October 8th, 2004:

The queston is - did my Ghostie already know that I like piercings?
My industrialesque noser is on my DRealm photo, methinks.
Maybe I really AM being stalked?!



I absolutely LURVE bouncies!!! Especially the buddy ones!
I desperately wish my Ghostie Pal would start dropping clues!!!!

---
October 7th, 2004:

Send a Spirit Flower!
---
October 6th, 2004:
Well a booing good morning to you!! I trust this finds you in great spirits.. I was working in my shoppe and the darnest thing, some pumpkins came rolling in and when I turned around, there were 3 lil ghosties pushing them.. They said they wanted to come and visit you, so I popped them right by the fence and here they are, hope they dont mess with your Halloween toooo much...
Have a wonderful day!! Huggles from your Ghostie Pal.

---
October 5thth, 2004:

Adopt your own growing Sparkle
at the Anime-Movie-Festival.
---
October 4th, 2004:


Oh, I can't wait to use this one in my dustings!

---
October 3rd, 2004: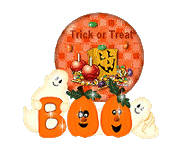 Sent from DRealm of DSpirit.

---
October 1st, 2004: The Introductory Message
HELLOO!!!!!!!!!!!!!!!!! I just thought I would holler out and introduce my spooky self.. I will be know as The Booer!!! I will do my best to spoil you as you so justly deserve.. Heres my first little prezzie.. Its the first of many for you..
BOOer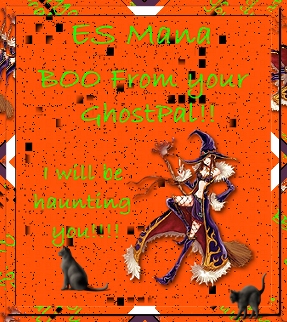 ---